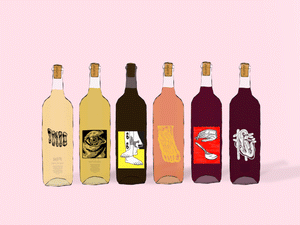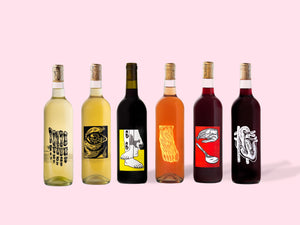 Taste the beautiful plumage of this peacock dream. 
2023 Speedo Gris - Speedo vino. Handpicked by ninjas. Speed dealers recommended eyewear for drinking this reprobate. A right maverick. Can't be contained. Don't fear the Jazz. Pinot gris. Fresh and juicy. Strawberries, pears, mandarin and white flowers with a light chalky texture
2023 Not Too Bad - A nice mix of leaner fruit, offering green apple, lemon, lime and that bright crunchy acidity we love at Fin. The riper fruit offering fleshier fruit - papaya, pear and melon. Underlying all this you get a touch of salinity with a slate-like minerality. Close your eyes and you can taste the spray from a waterfall bouncing off large granite boulders in a tropical paradise.
2023 YAY! Pinot Noir - It's Pinot in its relaxed, naked form, no nonsense, 100% YAY.This wine is a casacde of succulence featuring red berries and blackcurrants with cola nut and cherries, with a smidge of licorice. It's a fragrant number with hints of wild fennel and citrus pith. Light bodied with a soothing acidity.
2022 An Awfully Good Time - A field blend grown on the home block on a mixture heavy clay and clay loam. A blend of 70% Cab Sav, 10% Cab franc, 10% Merlot and 10% Petit Verdot. Hand picked on the same same day, destemmed and gently hand plunged during ferment. Bright blue fruits with fresh plums and blueberries. Fresh green herbs, bay leaf with a lick of citrus. Silky smooth velvety tannins.
2022 Mahady - 100% Roussanne - Skin boi - Fruity and floral with a mouth puckering acidity, and it will keep you coming back for more. Stone fruit on the nose with a touch of plumeria and caramel, light and fresh, savoury with light quince bitterness. 
2023 Le Vin du Rosier - 50:50 Garnarcha/Zinfandel - A super smashable light slurpy red brimming with electric, slap your face in disbelief, boisterous energy. It's guna put a spring in your step. Red berry fruit, pomegranate, blood orange and fresh cut dry grass. Soft fluffy tannins and mouth puckering acidity