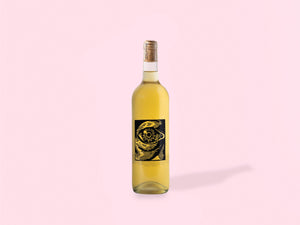 100% Roussanne Baby.
Still on own roots, Sarah planted the Roussanne in 1995, on the granitic soils of Tabilk. Organic fertiliser and composts are used to feed the vines and maintain healthy soils. A whole lotta of love is being put into this place, with sustainability being the central value.

Box Grove is situated on the lands of the Taungurung people of the Kulin Nation, who are the traditional owners and custodians of the land.

Hand picked
100% Whole bunch
Carbonic Maceration
On skins for 10 days
On full ferment lees for 3 months

Fruity and floral with a mouth puckering acidity, and it will keep you coming back for more. Stone fruit on the nose with a touch of plumeria and caramel, light and fresh, savoury with light quince bitterness. 
11.2% ABV
6.6 STD DRINKS
750ml